HOTEL INFORMATION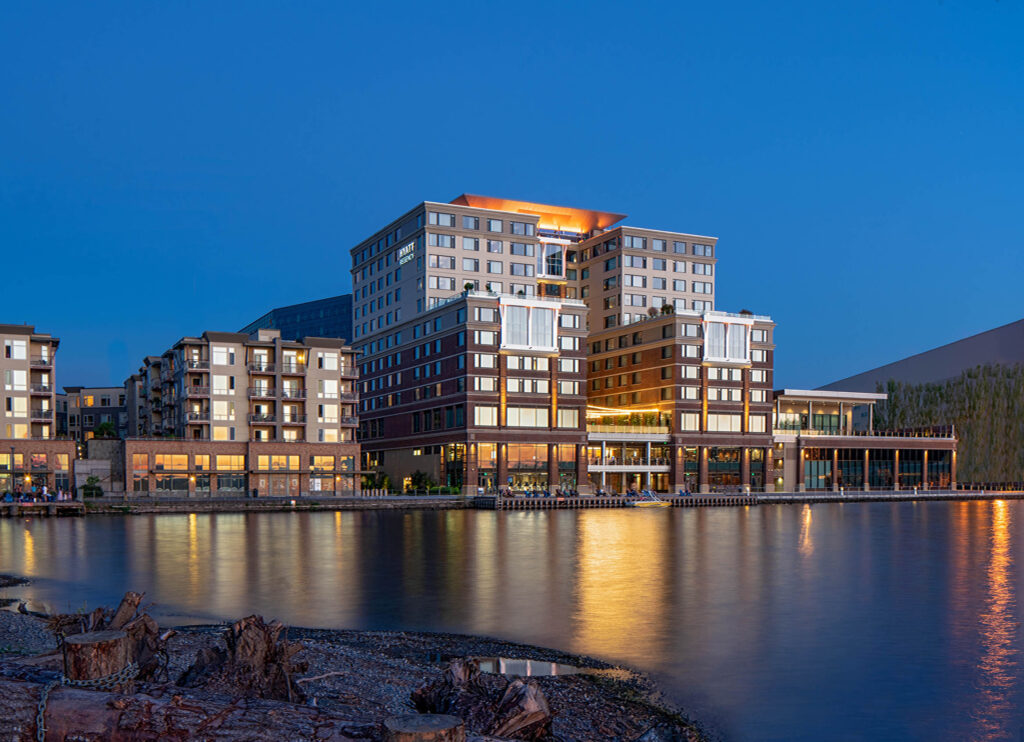 Hyatt Regency Lake Washington at Seattle's Southport
1053 Lake Washington Blvd N
Renton, WA, United States, 98056
P: +1 425 203-1234
Cut-off Date for the Hyatt Regency Lake Washington: Monday, August 1st or until the hotel sells out!
Looking for government rates? Our contracted group rate of $225 is currently lower than the established government per diem rate. We encourage all attendees to book their room using our reservation link for the most affordable prices.
Cancellation Policy
You may cancel your reservation up to 72 hours prior to check-in to avoid a one night fee.
---
If you need alternative accommodations, there are two hotel properties nearby:
Hampton Inn and Suites Seattle/Renton – 0.4 miles from host hotel (7 minute walk or 2 minute drive)
Click here to book your room
Residence Inn Seattle South/Renton – 0.3 miles from host hotel (6 minute walk or 2 minute drive)
Click here to book your room
BEWARE OF MISLEADING ADVERTISING OFFERS THAT CLAIM TO PROVIDE ACCESS TO THE CLEAN PACIFIC HOTEL BLOCK
We have been made aware that certain companies are targeting CLEAN PACIFIC exhibitors and attendees to secure hotel rooms through them. We do not have an official housing partner and all legitimate housing updates will come directly from the CLEAN PACIFIC team. These third-party companies are attempting to contact our customers claiming to provide official accommodations but they are not affiliated with the brand and we cannot guarantee their legitimacy. The only way to ensure you are booking rooms in our official hotel blocks is to book directly from the links and/or phone numbers listed on our website.
Event Safety & Hygiene Protocols
The health and safety for our event attendees, exhibitors and sponsors is of the utmost concern and priority for CLEAN PACIFIC. In an effort to maintain the health and well-being of all at our events, we are committed to following the U.S. Travel Associations guidelines for business travel. We recognize that all events and venues are different, so we will update all of our participants on specific safety measures before we go onsite.
We're working with the Hyatt Regency Lake Washington at Seattle's Southport and our partners on an enhanced event hygiene protocol – going beyond health and safety "recommendations" to create an environment where you are safe to learn and connect with one another.
Parking
Valet parking: $28/night (inclusive of tax)
As an alternative to valet parking, the Southport Public Parking garage provides direct access to the hotel, retail & restaurants. Access to the hotel is located on the ground level, A.
Southport Public Parking Garage: $16/night
Complimentary parking is provided on weekdays from 8pm-3am and all day on Saturday & Sunday.
TRANSPORTATION
Hyatt Regency Lake Washington at Seattle's Southport is located only nine miles from the Seattle-Tacoma International Airport (SEA). SEA Airport is home to 31 airlines serving domestic and international destinations.
Read COVID-19 FAQs at SEA Airport
Seattle-Tacoma International Airport (SEA) has implemented protocols to maintain the health, safety, and well-being of their employees, travelers, and community members who use Port facilities, while maintaining the essential functions of the Port. They are sharing COVID-19 status updates at SEA Airport as more information becomes available for the traveling public.
AIRLINE DISCOUNTS
United Airlines
We are pleased to partner with United Airlines for air travel to our upcoming event. To make flight reservations online please click on discount code ZKKK611061. MileagePlus members earn Premier Qualifying Dollars and miles for their travel.
You may also call United Meeting Reservation Desk at (800) 426 – 1122
Monday – Friday 8:00 a.m. – 10:00 p.m. Eastern Time
Saturday – Sunday 8:00 a.m. – 6:00 p.m. Eastern Time
Booking fees are waived for Meeting reservations. International customers may contact their local United Reservation Desk.
Delta Air Lines
Delta Air Lines is pleased to offer special discounts for CLEAN PACIFIC 2022. Please click here to book your flights!
You may also call Delta Meeting Network® at 1.800.328.1111* Monday–Friday, 7:00 a.m. – 7:30 p.m. (CT) and refer to Meeting Event Code NMV9L
*Please note there is not a service fee for reservations booked and ticketed via our reservation 800 number.
ONSITE DINING
Water's Table
Breakfast: 7:00 AM – 10:00 AM
Lunch: 11:00 a.m. – 3:00 p.m.     
Dinner: 5:00 p.m. – Close    
Reservations are recommended due to limited seating
See the menu
Dock & Drink
Monday-Friday: 3:00 PM-Sunset
Saturday-Sunday: 12:00 PM – Sunset
(Sunset is roughly around 8:30 – 9PM)
See the menu
The Market
24-hour
Enjoy gourmet grab-and-go options with an enhanced menu for take-out service
See the menu
LOCAL ATTRACTIONS & RESTAURANTS
Gene Coulon Memorial Beach Park
0.6 miles away
Directions from the hotel
Adjacent to the hotel, Gene Coulon Memorial Beach Park is set on the shores of Lake Washington. Featuring a swimming beach, Children's play area, boat launches, restaurants and more. The park is beautiful all times of the year!
Jimi Hendrix Gravesite
2.8 miles away
Directions from the hotel
Visit the iconic gravesite of Jimi Hendrix at Greenwood Memorial Park Funeral Home. Hendrix, a Seattle native, is seen as one of the most innovative electric guitar players of our time.
Renton History Museum
2.2 miles away
Directions from the hotel
Located in the historic Art Deco Firehouse, learn all about Renton, with rotating exhibits that showcase the past and present of Renton.

Seattle Center
16.5 miles away
Directions from the hotel
Home of the Space Needle, Chihuly Glass Garden, MoPop, Pacific Science Center and more. Experience 360 degree views from the Space Needle or interactive and exhilarating exhibits at Chihuly Glass Garden, MoPop and the Pacific Science Center.
Peyrassol Café at Southport
0.5 miles away
Directions from the hotel
The goal at Peyrassol is to prepare simple, rustic, homemade food with familiar flavors, served with passion and paired with an inspired wine selection and cocktails. Restaurant features a cozy atmosphere with changing seasonal menu.
The Landing (Dining District)
0.7 miles away
Directions from the hotel
Featuring fast, casual, and upscale dining options (Wild Fin American Grill, Vino, Red Robin, Panera, Panda Express, Trenchers Kitchen & Tap, Papaya Vietnamese Café, Five Guys, Torero's Mexican Restaurant, Wingstop and more).