Venue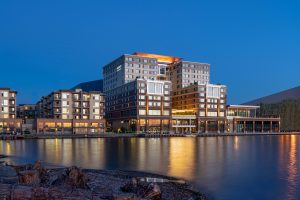 The exhibition will take place on first floor of the Hyatt Regency in Grand Ballroom. Pre-conference and conference tracks will be on the third floor.
Hyatt Regency Lake Washington at Seattle's Southport
1053 Lake Washington Blvd N
Renton, WA 98056
Hotel Accommodations
The Hyatt Regency is our host hotel and event location for CLEAN PACIFIC 2020. A recent AAA Four Diamond award winner, perfectly combines the natural beauty of the Pacific Northwest with modern amenities including an on-site spa, an indoor saline pool and complimentary wi-fi.
The CLEAN PACIFIC discounted rate of $209 per night is available at the Hyatt Regency Lake Washington at Seattle's Southport. A limited number of government rooms are available based on the current prevailing per diem rate. The deadline to book at this rate is Monday, May 18 2020.
You can book online or by calling the Hyatt Regency directly at +1 (425) 203-1234 and reference "CLEAN PACIFIC". Contact Ashlyn Geoffrey at ageoffrey@accessintel.com with any questions or concerns.
Parking
Valet Parking is available to hotel guests.
As an alternative to valet parking, the Southport Public Parking garage provides direct access to the hotel, retail & restaurants. Access to the hotel is located on the ground level, A. Utilize garage pay stations for payment.
Self Parking
$16.00
*Complimentary parking provided on weekdays from 8pm-3am and all day Saturday & Sunday
Valet Parking
$28.00 per day (inclusive of tax)
Transportation
Airline Information
Seattle-Tacoma International Airport (code SEA): 9 miles
If you are arriving by air, you will most likely arrive at the Seattle-Tacoma International Airport. Just under 10 miles from our hotel, SEA is served by 34 airlines with nonstop service to more than 91 domestic and 28 international destinations.
Airline Discounts
Delta Air Lines is pleased to offer special discounts for our attendees.
Please click here to book your flights!
You may also call Delta Meeting Network® at 1.800.328.1111* Monday–Friday, 7:00 a.m. – 7:30 p.m. (CT) and refer to Meeting Event Code NMTTD
*Please note there is not a service fee for reservations booked and ticketed via our reservation 800 number.
United Airlines is pleased to offer discounts off published fares to our 2020 event attendees. You may book online at www.united.com and enter your offer code (ZHR8505409) in the Offer Code box when searching for your flights. If booking through a travel professional or United Meetings at 800-426-1122, please give them the following information:
Agreement Code: 505409
Z Code: ZHR8
Travel Visas 
provided by:
The Board on International Scientific Organizations
As a standard part of the visa process, the State Department is now requiring that consular officers interview almost every applicant. Some consulates may have a long wait for an interview so applicants should contact the consulate to schedule an interview as early as possible. Furthermore, many visa applications are sent to the State Department in Washington, D.C. to be reviewed by several agencies. Because of the number of visa applications and the need for thorough security reviews, the process can take several months. Therefore, it is advisable for travelers to apply for their visas as early as possible (at least three to four months before the visa is needed). Contact the nearest U.S. consulate or embassy in your country for details on visa application procedures at that post.
For more information on applying for visas:
U.S. Nonimmigrant Visas
Apply for a Visa Letter
Local Attractions
Enjoy Seattle
After conference hours, there are plenty of exciting opportunities to explore Seattle and the downtown areas.
Top Attractions
Arts and Culture
Parks and Recreation
Food and Drink